Run Your Board Like a Pro

With Our Key Governance Terms
Get the most important key elements your board needs from our Corporate Governance Glossary.
Every Board Director needs this at their side.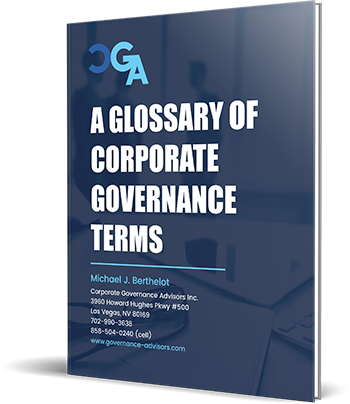 Experienced
Current public & private company directors

On ore than 30 boards around the world

Former public company CEOs
Deep Knowledge
Board operations
Evaluations
Governance Principles
Succession Planning
Strategy development
Oversight of culture
Professional
Frequently published authors
Speakers at national conferences
Educators
Corporate Governance Advisory Services
Board, Committee and Peer Evaluations
Evaluations should be more than an annual "check the box" exercise. Our evaluations add value and focus, increasing board effectiveness and director satisfaction.
In-Boardroom/Customized Education
Our experienced instructors can develop training events customized for your company and board, permitting deep dive application of learning principles to real life events.
Board Operations Consulting
Comparing your board operating metrics to those of other companies can help improve the efficiency of your meetings and provide a long term perspective for your board.
Corporate Governance Guidelines
Development & Review
Corporate Governance Guidelines are more than a listing standard requirement – they provide a window into the boardroom and a great opportunity to tell your governance story.
Specific Project Assistance
Many boards are forced by circumstances to undertake projects for which they have no previous experience. Our principals have seen almost everything and help your board get up to speed and find solutions quickly.
Navigate the Governance Labyrinth
People focused. Results Driven.
Corporate Governance Advisors' goal is to be a valuable resource to boards, helping them work their way through the governance labyrinth efficiently and effectively and allowing them to spend more time focusing on the important issues facing their business.
"We recently completed a process to implement, understand and design an effective management and board succession plan. As the founder of the company and having sat at the helm for twenty- five years, I was preparing to abandon my child, or so it seemed. The more I began to think about the process the more complex I realized the process was. Mike Berthelot showed me how to exit with grace, pride and a sense of accomplishment. It was through his guidance that I felt assured I had left behind an organization well suited and prepared to take and run with the ball without missing a beat."